Helenna's visit to LettUs Grow
Category
Enginuity News , Enspire News
To celebrate the launch of our new Skills Miner Vertical Farming Minecraft education game, our Senior Digital Product Manager, Helenna Vaughan-Smith, visited LettUs Grow, an indoor farming technology provider based in Bristol. They believe that careful innovation in farming can make the world a better place. Here is the tale of her visit…
Find out more about LettUsGrow
The visitors' instructions for my destination were very thorough, but I still managed to drive around in circles a few times on a damp day and make myself late for my much-anticipated visit.
As I walked around to the front of the rather industrial looking building in the middle of a trading estate in South Bristol, I was met with the warmest of welcomes from Lilly, the Head of Research and Development at LettUs Grow. She ushered me into an aptly painted green reception area where I met the rest of the team, and perhaps most importantly, Sassy the office dog who I immediately fell in love with.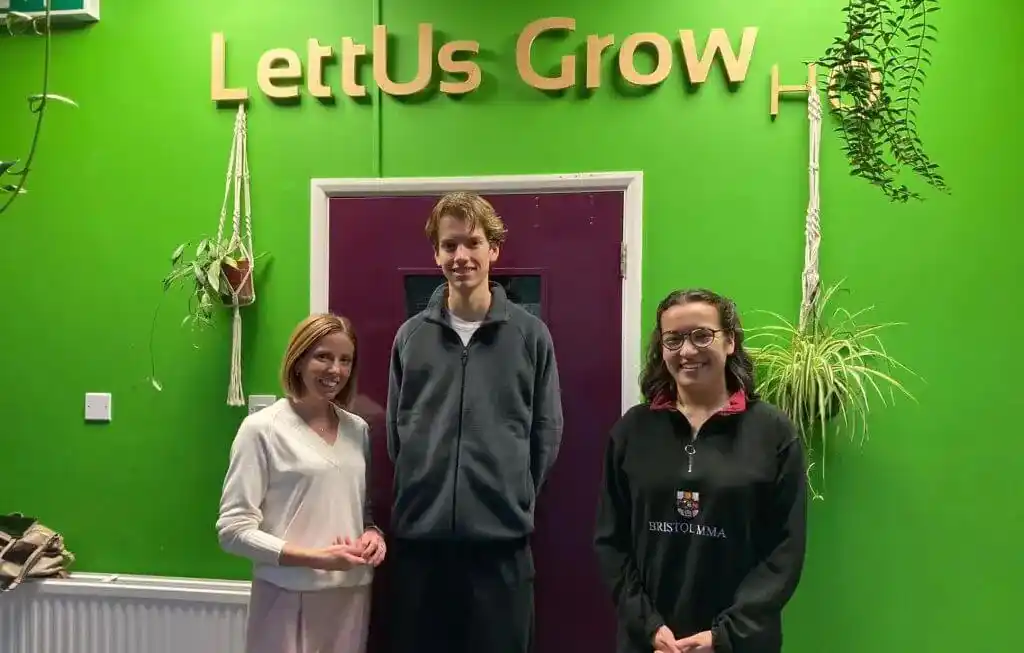 Helenna with Paddy Harris and Elisabeth Herratt from LettUs Grow.
I had been working on developing some exciting new resources for young people in Minecraft around the theme of Vertical Farming, and after several phone calls throughout the build, I was finally getting the opportunity to visit a real-life Vertical Farm.
I've developed a few games in Minecraft now under our brand name, Skills Miner, but always during lockdown, so all of the research and fact finding was done from my desk. It was a real privilege to be on a site visit and to see how closely the games and resources we had painstakingly worked on together as a team, aligned with a real-life Vertical Farm.
I could have spent all afternoon talking to people in the office – they were all so interesting and had fascinating stories to tell around how they had ended up working for an organisation with such a clear green mission. Many had apparently stumbled there by accident and then found that they had, in fact, arrived in their natural home. Plus, Sassy was in the office, so that was great too.
Lilly, Paddy, and Elisabeth took me straight through to the research area, where there were huge silver tanks and lots of pipes, buttons, dials, and numbers. Lilly explained to me what it all meant and how this area was where they did a lot of their testing and took developments from a concept to a commercially viable product.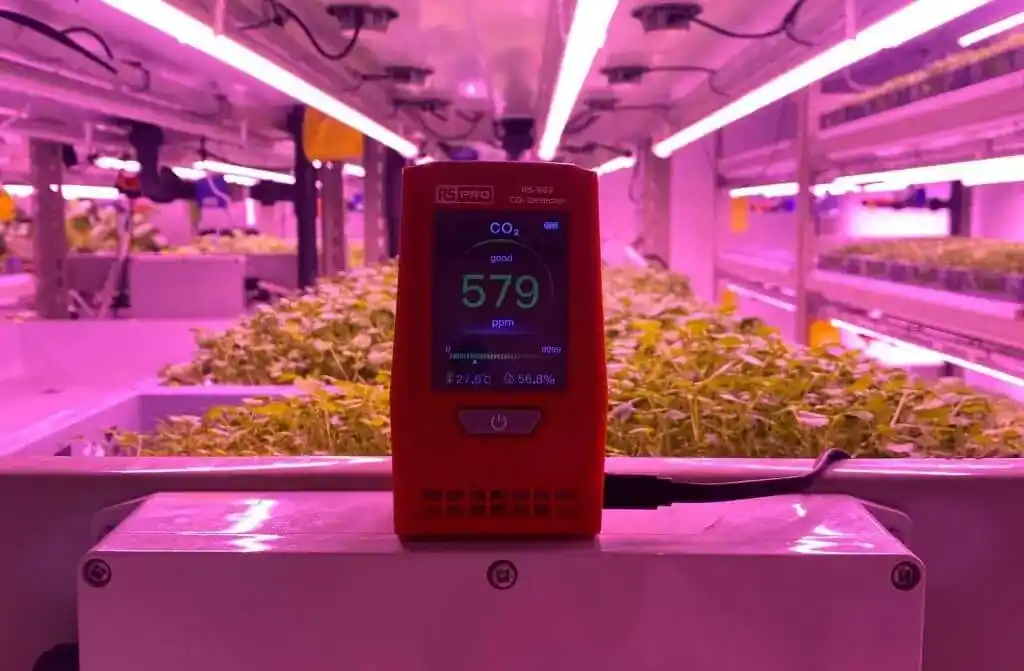 I had come to understand more about LettUs Grow and their business model as I worked closely with them in the preceding months. Their purpose was to design, test, build and distribute the best equipment to commercial growers – so any plants I was to see later were not for selling to the public or to local restaurants. Instead, they were controlled experiments so they could test their products to ensure that they produced the maximum yield.
We continued to walk through laboratory areas, which had a distinctive smell. It reminded me of a veterinary practice or perhaps one of those exotic aviaries you might have visited at zoos. I think it was all the cleaning fluid coupled with the humidity and warmth. It felt clean and tropical. I liked it.
Lilly showed me piles of recycled jute fabric which the plants grow on. I was thrilled to see this as our games are set in an abandoned carpet factory, which was inspired by a story we read at Enginuity about a Vertical Farm in Belgium that had been established in an old carpet factory. Lilly explained that the plants grow on fabric and that they have experimented with the most sustainable materials. For instance, rockwool is not nice for them to work with and is not as sustainable as the recycled jute. This is what the second game in our series explores – which materials are the most effective but also the most sustainable as a material for growing crops in a Vertical Farm. At this point, I already knew the visit was off to a great start.
Next was the part I was quietly quite excited about. Lilly asked my shoe size and passed me a pair of size 5 white wellies along with a branded LettUs Grow lab coat. We placed our outdoor shoes in the cubby holes and then washed our hands thoroughly as Elisabeth explained that we were about to be heading into a controlled environment.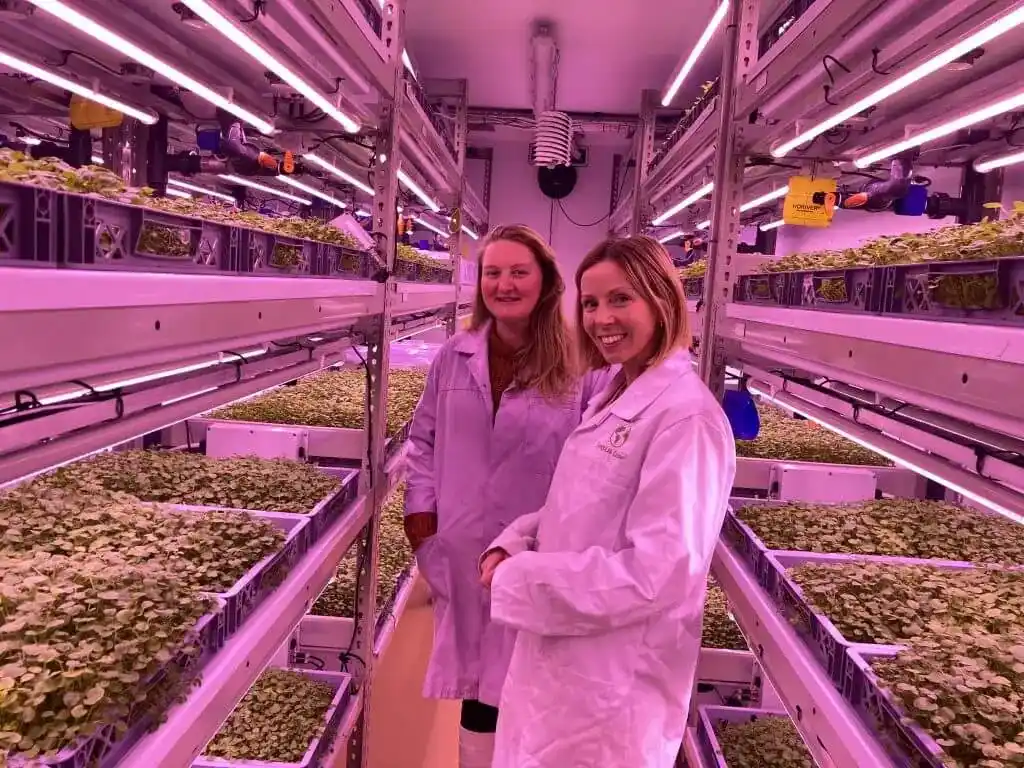 Helenna with Lilly Manzoni from LettUs Grow.
We pushed open the plastic curtains to be met by a very warm and futuristic room filled up with plants on all sides, stacked on top of each other and bathed in pink lights. It felt very calm in that room, almost as though it was appropriate to use hushed voices and let the plants do their thing. I didn't want to spoil what seemed the most perfectly optimal environment for them to thrive. I asked endless questions while Lilly, Paddy and Elisabeth told me all about their work and the science behind what they do at LettUs Grow. I was hanging on their every word, even the ones I didn't quite understand. I was particularly interested in the transparent, bag-like pipes all around the room with small holes in them. Paddy explained that a very small amount of air is pushed around the room to allow the plants to grow under some stress, or else they grow to become weak and feeble.
We carried on through to the next room, which had just been cleaned. Lilly explained how important it is to keep the environment spotlessly clean all the time. I made a mental note to make sure I send my youngest here on life, well, work experience when she is old enough. This room didn't have plants in it and some of it was top secret. There were huge basins for growing plants all around us and atomisers to water the plants as efficiently as possible. I think that may be everything I'm allowed to say about the equipment in that room. However, I can tell you that Elisabeth then pulled out her phone and asked me if I wanted to fill a basin. I looked around for a tap. She laughed a bit and showed me the software on her phone that controlled everything around the building. She showed me what appeared to be hundreds of options and fields of data, and then instructed me to press a couple of buttons. With that press of a couple buttons, the basin in front of us roared into action and quickly filled itself up.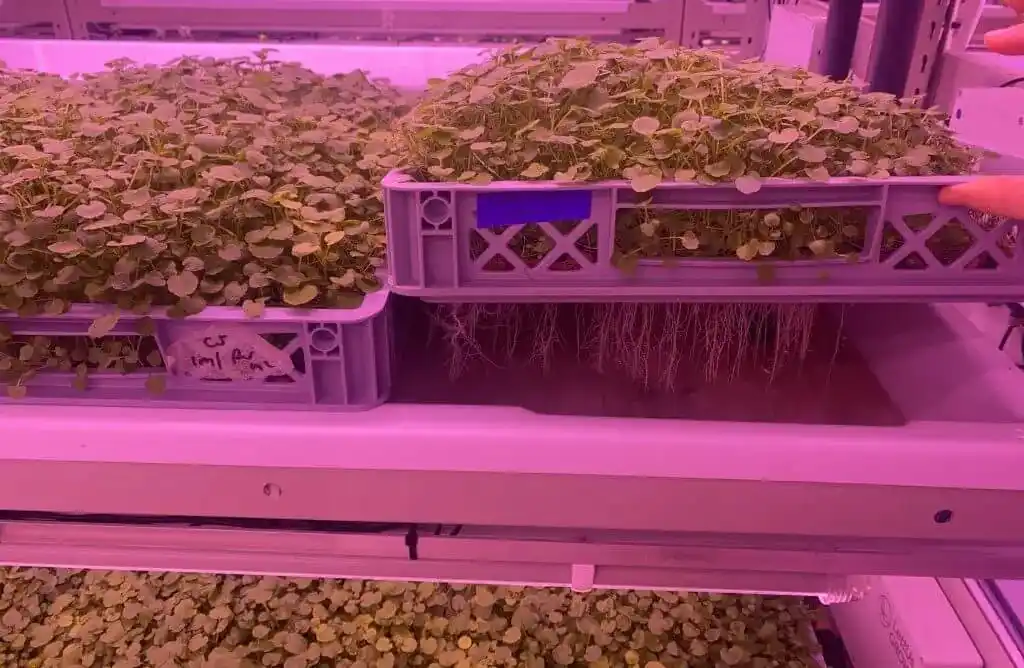 The last stop on our tour was a trip back outside. I had forgotten it was a chilly, rainy day on an industrial estate in Bristol. It had felt like I was walking around some sort of zen oasis until I was snapped out of it with a blast of cold, drizzly air. I was struck at once by a very bright pink shipping container standing in the grounds of the LettUs Grow car park. This was a hive of activity, which is funny because the container was coincidentally next to the resident LettUs Grow beehive. The bees were very much sheltering from the rain, so they didn't make an appearance for me on this trip.
I was welcomed into the shipping container by an industrious looking team working hard to get the container ready for their latest DROP & GROW™ scheme. This was where LettUs Grow use all of their expertise to kit out a fully functioning farm and deliver it ready for a commercial grower. The basins were notably bigger in here than they were in the research environment, and I could see the bag like pipes were very long to reach all the way up and down the container. The team explained that there are different challenges with the research and commercial set up and that a team of multi skilled people work together to overcome these.
I was disappointed that this signalled the end of my visit to LettUs Grow, however, it was not the end of the partnership. The hard work we have put in at Enginuity has been validated by the visit, and it has helped me to join the dots between LettUs Grow and our other fantastic partner, Farm Urban.
Farm Urban is a commercial grower in Liverpool and, in its own words, the organisation is on a mission. It is a commercial grower who uses the system from LettUs Grow to transform Liverpool into a greener, healthier place, embedding nutritious and sustainable systems into the fabric of society.
If you will allow me one more play on words, I left LettUs Grow feeling energised about our budding partnership with both organisations and look forward to seeing it flourish in the coming months.
To play our Skills Miner Vertical Farming Games, built with Industry and Education experts, mapped to the Gatsby Career Benchmarks and accredited by the Skills Builder Essential Skills Framework.
Find out more about Skills Miner Vertical Farming games
Thank you to Dr Paul Harper for the introduction to LettUs Grow, for facilitating the visit and for taking/providing the photos.
It felt very calm in that room, almost as though it was appropriate to use hushed voices and let the plants do their thing.
Get in touch to find out more about Enginuity
Contact