Why Engineering & Manufacturing is critical to the future of the green economy
The green skills challenge
Make UK, in association with Sage, recently published: Unlocking the Skills Needed for a Digital and Green Future. This report revealed that the overwhelming majority - 98% - of manufacturers are aware of the Government's NetZero target and 92% say this is achievable in their business by 2050 if the right help is in place.
While many green skills are highly specialised and are concentrated among new (Biofuel and Biomass Engineers, Wind and Solar Engineers) and traditional engineering careers (Aerospace and Automotive Engineers, Mechanical and Mechatronics Engineers), there is a growing trend for green skills in roles that are not traditionally considered "green." (Machinists, Robotics Engineers, Validation Engineers, Construction Engineers)
The World Economic Forum defines green talent as someone who either has at least one skill explicitly listed in their occupational profile classified as a "green" skill, and/or works in a job that is considered a "green" job.
There are also those occupations that are considered indirectly green because they support green economic activity but do not have any green skills in their profile, and so the impact of green economy activities and technologies cause san increase in the employment demand.
The push for a cleaner world
Across 2020 and 2021 there has been multiple key publications from Government, Statutory Bodies, and Industry Bodies which aim to address the challenge of climate change. These include: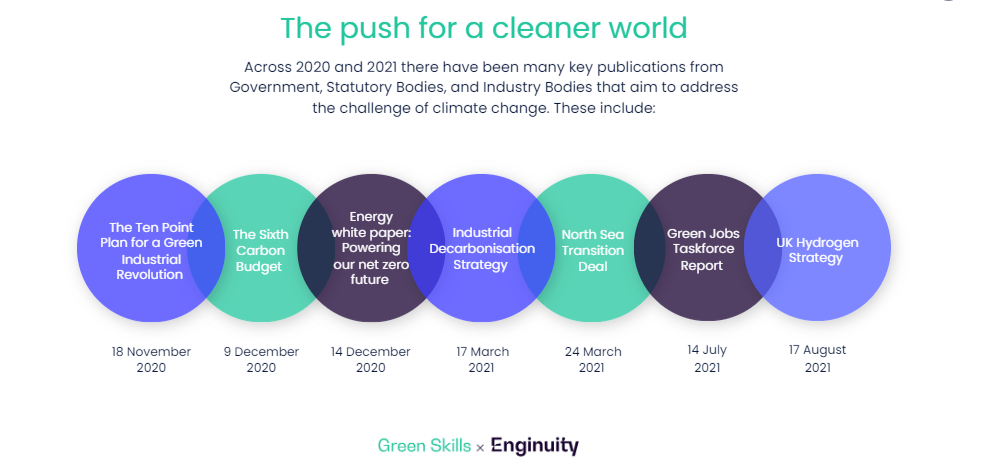 Just across this sample of the available reports, the page count comes in at over a thousand!
All these reports talk about the need for green jobs, green skills and pave the way forward to a net zero future, but what else do all they have in common?
Engineers are needed every step of the way in the journey to achieve net zero by 2050 in the UK.
‍As natural problem solvers and innovators, it is engineers that will, given the opportunity, change their own world and ours. But how will they drive the change we need to see? It's already happening‍
By the advancing of low-carbon energy solutions like offshore wind and driving the growth of low carbon hydrogen.
 In the design and manufacture of zero emission vehicles, battery technology, 'jet zero' and sustainable fuel.
In the construction of greener buildings, domestic and industrial retrofit, and the deployment of Carbon Capture, Usage, & Storage solutions. 
The Enginuity skills solution
At Enginuity, we recognised that the green skills requirements will be different for everyone. From occupations where the essential purposes remain the same -but tasks, skills, knowledge, and credentials, may be altered because of greening; to brand new occupations that have been created to meet the new needs of the green economy, we can help with your skills needs.
We have been working hard on the identification of 'green' tasks within occupations. These task statements are exemplars of the types of occupational activities workers may perform and can be conceptualised as the smallest unit of activity with a meaningful outcome. These green tasks form one of the elements found in our data-driven solutions to support the skills needs of the Engineering& Manufacturing.
From the creation of occupational upskilling solutions that meet the needs of the green economy, to validating the need for green skills based on real demand data, to supporting the transition of engineers to greener skills, greener jobs, and greener industries, Enginuity is here to support you in your skills journey.